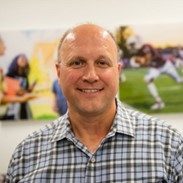 Phil Strzalka, JD
630-806-6785
pstrzalka@wheatonacademy.org
I joined the Wheaton Academy Institute with more than 25 years of experience as an attorney and a management consultant developing and implementing people and operational solutions within higher education institutions and other not-for and for-profit organizations across the country. My experience included strategic planning and the implementation of significant performance improvement, organizational design, business process redesign, and talent/leadership development initiatives for both faculty and staff at faith-based and non-faith-based institutions. Many of the implemented solutions brought about disruptive change requiring leaders to transform themselves, their operating model, and to reimagine how work got done within their organizations. As a facilitator, I learned to study, work with, and develop tools for managing organizational change. I grew to become a regular thought leader, author, and speaker on these subjects.
In these roles and as a parent of three children, I have also witnessed, first-hand, the landscape of education changing rapidly. The entire system of education is being disrupted. Student preferences have changed. Secular norms have shifted. Delivery methods are being questioned. Quality and cost are being re-evaluated. These changes are happening because it must. The kinds of roles and careers students will fill throughout their 100-year lives are evolving quickly as the technology sector grows and the world evolves.
If our students must adapt, so to must what we teach and how we teach it. We cannot just teach academics; we must prepare students for a life and career that is rapidly evolving over their lifetime. We must equip Christ-centered lifelong learners with an adaptive educational model, emphasizing competency-based learning and agile development.
I strongly believe that Christian educators have never been so well positioned to make an impact. In August 2021, the Lord desired for my time and talent to be focused on advancing Christian education when I joined the faculty at Wheaton Academy. It is now my honor to serve as the Institute's Executive Director.    
Teaching Experience                                                                                                                                                                                   
Wheaton Academy, West Chicago, Illinois
Business and Innovation Program Director                                                                                                August 2021 to Present
Business Department, Faculty                                                                                                                       August 2021 to Present
Winterim Instructor, Business Innovation Lab                                                                                           January 2020, 2021
Chicago-Kent College of Law, Illinois Institute of Technology, Chicago, Illinois
Adjunct Professor, Employees Benefits Law                                                                                              Winter Semesters 2007/2008

Education                                                                                                                                                                                                       
Juris Doctor (1998), with honors, Chicago-Kent College of Law, Illinois Institute of Technology
Bachelor of Science (1992), with honors, Finance, University of Illinois at Chicago
Recent Publications and Speaking Engagements                                                                                                                               

Administrative Services is a "Job to be Done" with the Customer at the Center, Co-Author, HuronInsights, July 2018
Implementing Disruptive Change: Mobilizing Leaders, Co-Author, HuronInsights, July 2018
Implementing Disruptive Change: Leveraging Sponsors, Co-Author, HuronInsights, July 2018
Implementing Disruptive Change within Higher Education, Co-Author, HuronInsights, June 2018
Breaking out of the Status Quo: Creating a Culture of Innovation in Higher Education, Interviewee, The Evolllution Magazine, June 14, 2018
Align Resources to Support Strategic Priorities and Enable a Campus to Embrace Change, Speaker, American Association of State Colleges and Universities, Symposium for Presidents and MLI Graduates, April 19-20, 2018, Waltham, MA
Leadership and Governance, Speaker, American Council on Education, Webinar, September 19, 2017
Healthcare Organizational Design, Speaker, University Health System Consortium, CHRO Council, April 19-20, 2015